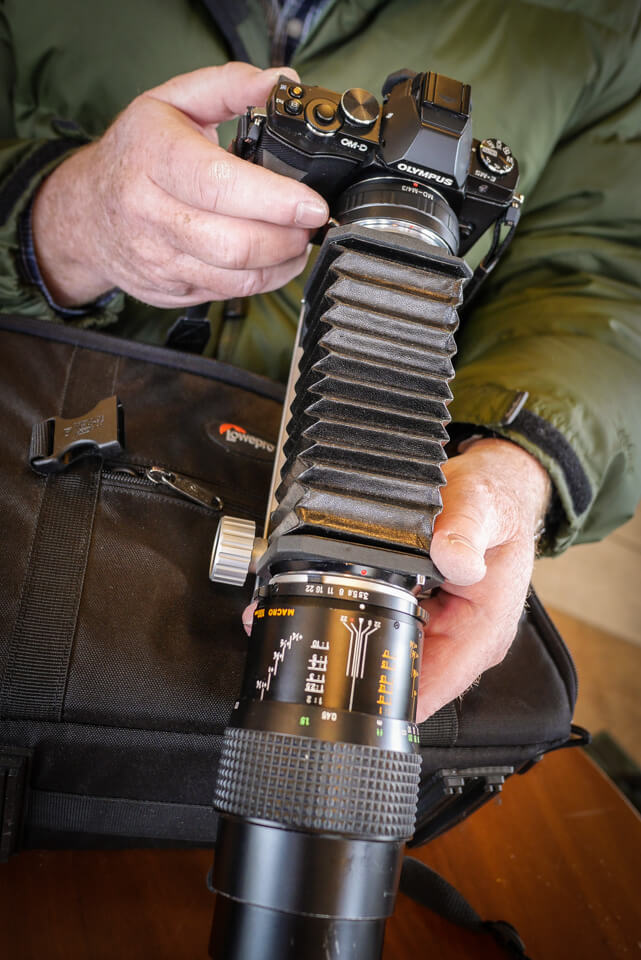 Last week I had coffee with my friends Tracy and Jan. Tracy is a lens expert and loves adapting them to his Micro Four-thirds cameras. Jan loves to shoot with MFT cameras. Tracy made the portrait lens from an old movie projector lens that I've written about before. I bought a Rokinon 7.5mm fisheye lens for Micro Four-thirds from them. More about that in a future post…
This time he brought four new lenses, a very unique Nikon rangefinder lens adapted to use the Nikon F mount then attached to a Nikon to MFT adapter. The second lens was a 1970's Minolta 58mm f/1.2 lens. This is one of the first lenses I sold when I worked in a department store many years ago.
The third was the most interesting to me; an old Minolta Macro 100mm macro lens attached to Minolta bellows then to a Minolta to MFT adapter, an amazing Macro lens. Last but not least is an old Nikon tilt-shift lens.
Look on eBay or Craigslist for any beautiful old lens and a matching Micro Four-thirds adapters and have some creative fun.
Mark Toal is a training representative for Panasonic in Portland, Oregon. His views on this blog are his own and do not represent Panasonic. You can see more Mark's photos at www.marktoalphotography.com or contact him at marktoalphotography@gmail.com