Books
Posing for Portrait and Glamour Photography's original title was "ABC's of Portrait Posing" and opens with tips on  basic body, hand and head posing. It also shows posing techniques that enhance a subject's appeal while minimizing concerns they might have about their appearance. In the book, I show real world subjects at different ages, that have a variety of looks and figure types, demonstrating the effect of careful posing on the types of subjects you're likely to encounter. You can order a copy from Amazon here.
Studio Lighting Anywhere is streamlined approach showing how to select gear that provides the most value and requires minimal shooting space. It features techniques for using speedlights for portrait lighting as well as traditional lighting tools such as monolights. Lessons include classic lighting effects, post production tips and troubleshooting common lighting challenges. You can order a copy by clicking here.
Available Light Glamour Photography. Starting with many reasons for using available light, the book includes determining exposure for different environments, ways to reinforce the natural light through the use of scrims and reflectors and walkthroughs on using speedlights. Ambient light—indoors or outside, day or night—presents challenges but my tips  streamline the process so you can easily produce glamour images. You can order a copy by clicking here.
Joe Farace's Glamour Photography shows how to use the least amount of equipment to shoot glamour portraits. It includes tips on working with professional or amateur models using no more equipment than a few basics and provides information on finding and working with glamour models and adapting any location for glamour photography. Beginning and aspiring pros looking to diversify their work should find lots of information. You can order a copy by clicking here.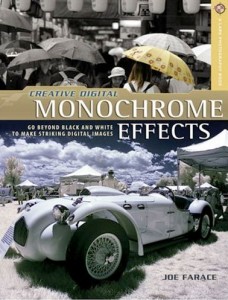 Creative Digital Monochrome Effects. In this book, you'll discover all kinds of fun and inspirational techniques for photographers of every level. I dig into what kinds of software is best and show how to use them to manipulate your photos as well as discussing in-camera effects for toning and soft focus. The information covers everything from creating traditional looking black-and-white or color toned images, to adding color selectively for a fine-art approach. Available used at bargain prices Here.